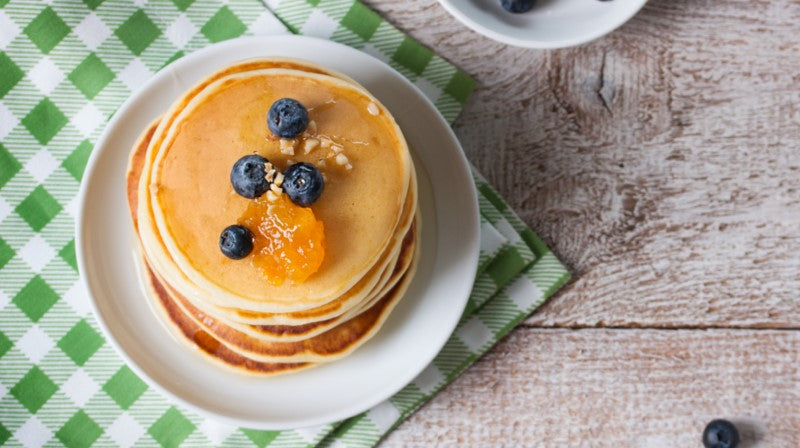 Are you trying to reach your fitness goals in time for summer? If so, we know that eating healthily and working out takes commitment, but it doesn't mean you can't have a treat every now and then!
At only 130 calories per serving, these chocolate protein pancakes are a delicious and nutritious snack that you can enjoy guilt-free. Protein pancakes are a hit with celebrities like Kim and Khloe Kardashian as they taste like an indulgence but can actually help you promote healthy muscle growth!
You'll need:
2 bananas
4 large eggs
3/4 cup old fashioned oats
1/4 cup chocolate flavoured protein powder try our
https://www.foreverfeeling.com/products/protein-powder-choc-ftr42?_pos=2&_sid=cedae6997&_ss=r%22%3Echocolate%20Spartan%20Health%20Protein%20Powder%20or%20our%20https://www.foreverfeeling.com/products/protein-princess-whey-protein-powder-chocolate-ftr242?_pos=1&_sid=cedae6997&_ss=r%22%3Echocolate%20Gym%20Bunny%20Protein%20Princess%20Powder
1 tsp ground cinnamon
2 Tbsp unsweetened cocoa powder
Topping:
Choose whatever you like for your topping, but we love powdered sugar and strawberries!
1) Preheat your skillet or griddle to medium heat and spray a coating of a non-stick cooking spray.
2) Blend bananas, eggs and oats in a blender on a low setting for 15-30 seconds until your bananas are fully mashed and your oats are perfectly ground.
3) Add cinnamon, cocoa powder, and protein powder and blend more on a low setting for another 30-45 seconds until your mixture is smooth.
4) Pour a 1/4 cup of your mixture onto your preheated skillet or griddle and cook until you see bubbles beginning to form and the edges starting to set. Flip over and cook the other side for about 2 minutes.
5) Serve straight away with your topping of choice!
Well, what are you waiting for? Get cooking! To keep up to date with our new lifestyle products, follow us
on Instagram 
https://www.instagram.com/foreverfeeling_official/
.
Approve and download
---